The super Cub was developed from the earlier Cubs such as the J3 and L4.
Initial versions were powered by 90hp (67kw) continental C90-12F and 108hp (80.5kw) Avco Lycoming 0.235 engine. These early versions arrived on the scene in 1948.
Early versions are known as PA-18-95 and PA-18-108. These are identified by a cowled in engine. It wasn't until later that they were fitted with flaps.
The Super Cub has continued to get more power and the Avco Lycoming 0-290-D2 of 135 hp (101kw) engine was fitted and some had flaps fitted which really brought it very good short field performance. Later the power plant became the Avco Lycoming 150 hp engine.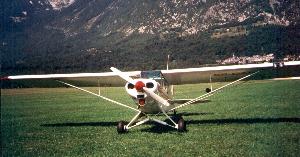 more at www.glue-it.com